A Simple Click Really Helps
Black Friday deals in the US are happening all day today, and the deep discounts for 2016 aren't waiting for you to finish that Thanksgiving dinner. This year's Black Friday sales mark the cheapest prices for 4KTVs at Best Buy, new video game consoles on Amazon and the best value for an iPad Pro at Target.
There are hundreds of Black Friday 2016 deals available on Thursday through the weekend, and you're going to have to buy everything quickly to get them while they're still in stock. Many of the best deals are listed as out of stock an hour after their official price drop. Buy those PS4 and laptop deals while you still have the chance.
We're sorting through all of the early Black Friday ads to find deals at Walmart, Toys R Us, Amazon, Newegg and many more stores throughout the United States. You don't have to wait in line at Best Buy or GameStop this year. It's too cold, and there's nothing like ordering a new MacBook Pro for Black Friday from an old MacBook, all while indoors.
Our comprehensive Black Friday deals list is simple and easy to use and updated every 15 minutes. Here's every single major deal from the beginning of the alphabet with Amazon to the end with Verizon, and every American retailer in between. Happy shopping.
The best Black Friday deals
iPad Pro 9.7: Buy Apple's latest iPad, normally $599, in a Black Friday deal starting at just $449 at Target
Cheap 4KTV: This beautiful 49-inch Toshiba 4KTV is Ultra HD and one of the best Black Friday TV deals, amazingly only $199 at Best Buy
Apple Watch: The new Series 1 smartwatch costs is now below the $200 mark today, costing $198 at Target
Fitbit Charge HR is one of the best fitness trackers you can buy, with heart rate monitoring included for $89.95 at Target
Phantom Drone: Get the popular DJI Phantom Standard 3 Drone for Black Friday 2016 for only $369 at Walmart
PS4 Slim + 2 games bundle: Uncharted 4 and Destiny Collection make up Sony's best PS4 500GB console bundle for $299.99 at GameStop
Xbox One S + 2 games bundle: Battlefield 1 and Elder Scrolls V: Skyrim are bundled with Microsoft's new Xbox One S 500GB for $288 at Amazon
iPhone 7 and 7 Plus: $0 down and, with activation, a $250 gift card from Target and Best Buy
Samsung Galaxy S7 Edge: $0 with a contract and a free Samsung Gear VR headset plus a $250 gift card from Best Buy
Huawei Honor 8: This unlocked Android phone is $100 off for Black Friday, now $299 at Best Buy
Gaming laptop: The high-end MSI 15.6-inch GE62VR Apache Pro Intel i7 is a beast of a gaming laptop selling for only $1,299 at Newegg
Gaming deals
Oculus Rift + VR ready PC: Everything you need to step into a VR world is here thanks to Oculus and Cyberpower PC – was $1,300, now $999 at Amazon (limited time deal)
PS4 bundle with 2 games: Sony's 500GB console is bundled with Uncharted 4 and Destiny Collection for $299 only at GameStop
Cheapest PS4 bundle: The same PS4 Slim console with Uncharted 4 (but without Destiny) is $50 cheaper at $249 at Walmart and $249 on Amazon
PS4 Pro + extra controller: PS4 Pro is the most powerful 1TB PS4, and its Black Friday deal adds an second controller for $438 on Amazon
PS4 Pro The cheapest we've found the PS4 Pro so far is $399 at Amazon
PS4 1TB console: Double the amount of internal storage for all of those downloadable PS4 games $399 at Amazon and Toys R Us
Custom PS4 bundle: This PlayStation 4 Black Friday deal comes with Uncharted 4 and a game of your choosing (like Call of Duty) for $288 at Walmart
PS4 bundled with CoD + controller: Call of Duty: Infinity War and a free controller are on sale for $349 at Costco
PS4 Limited Edition bundle: This PS4 Black Friday deal comes with a special Uncharted 4: A Thief's End design and the game for $342 at Amazon
PS4 (Refurbished) Black: Don't mind a used PlayStation 4? You can get it for the rock-bottom price of $224 at GameStop and  $269 at Walmart
PS4 (Refurbished) White: The cheapest PS4 Black Friday deal for the console in white is now only $224 at GameStop
FIFA 17: EA's soccer game is still one of the great one's, and it only costs (select systems while in stock)
Madden NFL 17: American football is king during Thanksgiving, and so far the deals on this NFL video game starting at
Xbox One Elite: The pro-level bundle adds the 1TB console and $150 Xbox One Elite wireless controller for $419 on Amazon
Xbox One S 1TB + Battlefield 1: Go big or go home. This Xbox One S in special edition military green is the best Xbox Black Friday deal at $299 via Amazon
Xbox One S Battlefield 1 special edition: Remember when people were paying $600 for an Xbox One? This special edition costs
Cheaper Xbox One S bundle: Not a Battlefield 1 super fan? You can actually get the non-limited edition version of the same bundle for
Xbox One S 1TB + Gears of War: Blast your way through this epic game and have internal storage to spare at $299 at Walmart
Xbox One S 1TB bundle: Double the amount of storage in this Xbox One S console bundle featuring Gears of War 4 for
Xbox One S + Battlefield 1: The brand new Xbox One S has a slimmer price attached along with with EA's Battlefield 1 for $249 at Amazon
Xbox One S + Minecraft: Everyone loves Minecraft. If you consider yourself everyone, then buy this bundle for $249 at Amazon 
Xbox One Elite controller: Get $6 off of the souped-up Xbox One gamepad in this Black Friday 2016 deal for $144 at Amazon
FIFA 17: EA's soccer game is still one of the great one's, and it only costs $27 on Amazon (select systems while in stock)
Madden NFL 17: American football is king during Thanksgiving, and so far the deals on this NFL video game starting at $27 through Amazon
More gaming deals
Pokemon Sun: This is the hottest Nintendo 3DS game you can get and it's retailing for
Pokemon Moon: Not surprisingly, the next best selling Nintendo 3DS game is Sun's counterpart, and it too is
Overwatch Origins Edition is on sale, when it used to cost $59.99, and is now just and
TV & video deals
Samsung 4KTV: Don't overspend just to get a big-screen, name-brand 4KTV. We found this 60-inch 4KTV deal for
Samsung HDTV: High-end TVs don't have to be expensive, as we can see from this $1,699 television now  
Cheap 4KTV: This 55-inch 4K TV deal for a Philips Ultra HD LED set can't be beat on Black Friday, as it's only
Samsung 55-inch 4K TV: Want a top-of-the-line 4KTV from Samsung? Here's the UN55KU6270FXZASKU at
LG 60-inch 4KTV: There's an even bigger 4KTV on sale for Black Friday, and it's from Samsung rival LG. The 60UH6035SKU is just
Cheap 4KTV: This beautiful 49-inch Toshiba 4KTV is Ultra HD and one of the best Black Friday TV deals, amazingly only
Amazon Fire TV stick: Stream all of your favorite apps to the big screen with the bonus of the helpful Alexa assistant for $29.99 at Amazon
Laptop & Macbook deals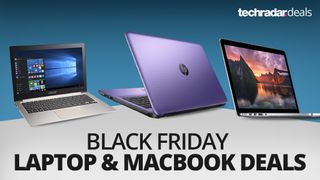 15-inch Dell Touchscreen laptop: This Windows 10-driven laptop is $150 off at and has an Intel Core i5 chip, normally $499, just
Cheaper 15-inch Dell Touchscreen laptop: You can spend even less money on the Intel Core i3 version at the rock-bottom price of
Cheaper MacBook Air: Apple's latest MacBook Air model is with a 13-inch display and Intel Core i5 processor at just
MacBook Air: Double the storage on the previous model and you'll get the latest MacBook Air for a generous price of
21.5-inch iMac: You can get a last-generation Mac for $200 off when you buy this 21.5-inch iMac for
Surface Pro 4: Microsoft's 2-in-1 is transforming its price for a Black Friday deal that instead of costing $999 is just $799
Smartphone deals
iPhone 7 Plus for $0 + gift card: Target has the very same freebie happening today for the bigger iPhone 7 Plus, so get your
iPhone 7 for $0 + gift card: Best Buy has the same deal going for the iPhone 7. Get your
Samsung Galaxy S7 Edge + VR headset: $0 with a contract and a free Samsung Gear VR plus a  
Huawei Honor 8: This unlocked Android phone is $100 off for Black Friday, now
iPad & tablet deals
iPad Pro 9.7: You don't have to pay $599 for Apple's new tablet, as it's $150 off for the unbeatable price of (even Apple can't beat that price)
Cheap iPad Air 2: Owning an iPad doesn't have to be expensive. The very similar looking iPad Air 2 is only
An iPad for $199: The cheapest we've ever seen a brand new iPad is for the iPad mini 2, which costs
Amazon Fire HD8 tablet: You don't have to shop at Amazon to get a really great Fire tablet on Black Friday, as it's just  
Amazon Kindle Paperwhite: Stop saying the "psychical book was better" with the best e-reader you can buy, normally, $119, now $99.99 at Target
Cheap Amazon Fire tablet: Just an inch shorter, but significantly cheaper is this entry-level tablet for
Amazon Kids Tablet: This spill and shock resistant tablet for children is pre-loaded with learning-based games, retailing for $99, now $74.99 at Target
Toys & LEGO deals
Crayola Toys: Give the gift of learning and creativity to a child this year with the Crayola Art Bundle starting at
Disney Infinity Starter Kits: Into Marvel and Disney toys being transported to your television and into a game? It's priced at just
LEGO Dimensions Game: There are starter packs for Xbox One, Wii U, PS4, Xbox 360 and PS3, down from $89.99 and starting at
Star Wars Yoda figure: Here'a a 16-inch tall Yoda figure that stands upright and takes batteries for the posable lightsaber, was $99.99, now  
Thomas & Friends: Take-n-Play Thomas' Favorite Friends is a complete set of 10 die-cast metal vehicles that was $34.99 and is now
80+ piece train set: If an Imaginarium Piece Mega Train World was part of your childhood, you can return the favor today –
Fisher Price Medical Kit: Let the kids in your life play doctors with this Black Friday Toys R Us deal that's
Better than Power Wheels: There are three different 6 Volt Powered Ride Ons, including a Mini Cooper and BMW X5 – was
Kitchen & Home deals
Google Home: Don't pay full price for Google's assistant, because it's down from $129 to just
Amazon Echo Dot: Get Amazon's Alexa intelligent assistant  throughout your house at a new low price for $39.99 at Amazon
Amazon Tap Speaker: This Alexa enabled speaker is both powerful portable and down from the list price of $129 to just $89 at Amazon
Amazon Echo: Makes the most powerful version of the Alexa-enabled speaker affordable on Black Friday, once $179, now only $139 at Amazon 
Camera & accessories deals
Nikon DSLR + free memory card: The Nikon D5300 proves you don't have to spend a lot of money to take professional photos. Normally $1,099, it's  
Cheaper Nikon DSLR: Whether you need a longer zoom lens or the standard kit, these Nikon D3400 Black Friday deals are all just  
Headphone & audio deals
Beats earbuds: These are the ultimate workout and daily wear earbuds, and they're finally below $100, normally $135, and just
Beats Solo 2 Wireless: Looking for larger cans within the Beads brand? The Solo 2 are $180 off at $119 at Target
JBL Xtreme Speaker: This powerful Bluetooth speakers used to cost $299, but now it's $199 at Best Buy
Bose QuietComfort headphones: We really liked these QuietComfort 20 earbuds, and now they're down from $249.99 to to $199 at Best Buy
Cheaper Bose earbuds: Stick these comfortable in-ear headphones into your ear canals and listen to music for $39.99 at Best Buy
Powerful AV Receiver: Get the surround sound A/V unit you deserve with Bluetooth – was $450, now $299.95 at Amazon